Ron Kellogg
August 25, 1941 – July 19, 2020
Always in our Hearts
Ronald Steven Kellogg passed away on July 19, 2020 from complications of a stroke. He was born in Maryland on August 25, 1941. At the age of 3, he lost his mom and at 16 moved to Utah to live with his sister Alice and her husband Steve. Ron graduated from Weber High where he earned many records in swimming. He then served a mission for the Church of Jesus Christ of Latter-Day Saints in the Northern California Mission. After his mission, he went on to attend and graduate from Weber State University.
Ron married Ilene R. Kellogg in 1964 and they had 3 children, Kris, Matt, and Angie. They later divorced but remained lifelong friends. In 1983 he met the love of his life, Elizabeth "Beth" and married her in 1984. With that marriage came three boys, Will, Drew and Adam who all remained his lifelong friends. His life was the best when spending time with his family. It was the most important thing. The Gospel of Jesus Christ and learning and studying about it was also a top priority in his life and he was always happy to share his knowledge and give to a fault.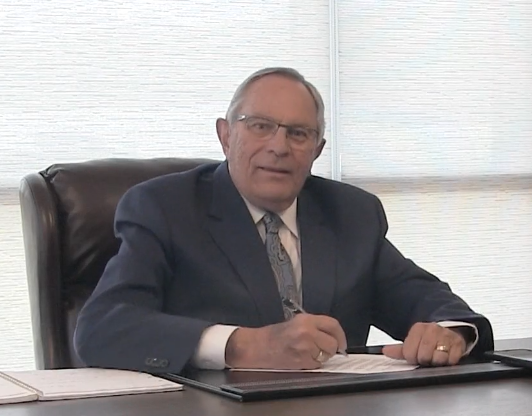 After multiple jobs, he found his life passion selling insurance in the senior market for the last 50 years. Over those years, he started his own agency, Kellogg Insurance. With that company, he has hired and trained thousands of agents all over the country. The consummate storyteller, Ron could tell you about every policy holder like it was the first time you have heard it, even if it was the 5th, 6th, or 7th time. It was not just work, his managers, staff and agents were his "Kellogg Family".
Football was more than a passion to him; it was a lifestyle. Though he bled Weber State purple, he was an avid Utah fan. He was a season ticket holder of U of U football games. We are sad to know he will not be here to join us in the south endzone where we have sat for 33 years to see the new addition. Ron coached all of his boys in Brighton Bengal little league football and continued to coach even after they had moved on, winning multiple championships.
Ron personally kept Harley Davidson in business for the last 22 years. He never saw a Harley he did not want to own. He has not missed a Sturgis Rally in the last 20 years. The Black Hills will never be the same without Ron there.
We will miss him beyond words. We could only hope for just one more minute, but the overwhelming joy we imagine he is having in heaven with his son Matt is giving us peace. Ron is survived by his wife, Elizabeth "Beth" deMontmollin Kellogg. Daughters Kris Kellogg (Lisa Hall), and Angie Kellogg. Sons Will Cooper (Tammy), Drew Cooper, and Adam Cooper. Grandchildren, Kassidy Kellogg, McKell Kellogg, Alec McMorris, Sadie McMorris, Kennedy McMorris, Halle McMorris, McKenzie Cooper, Madison Andrus, Mikayla Bentley, Kallie Davis, Paige Cooper, Elie Cooper, and Andrew Cooper. He is preceded in death by his parents, brother, sisters and his son, Matt.
"The will to prepare to win is more important than the will to win." – Ron Kellogg
TGen Memorial Gift
Your donation to honor a loved one in our memorial program is important to furthering the institute's mission to develop earlier diagnoses and smarter treatments for patients. All gifts at every level make a difference! To donate in memory of Ron, click the button below, then on the TGen page, click the orange button, "Make a Memorial Gift".
I once got us lost trying to find our gate at the Minneapolis Airport. Ron was laughing at me because I had been there so many times and still couldn't figure out where we were going. He was always good at turning little moments like this into great memories!
John Weir
I will never forget my first managers meeting. I was shocked with all the great food that snacks that Ron made sure we were always overfed! I enjoyed talking football with him and telling him stories from when I played at the U. I will always be very jealous of his amazing Harley Davidson bikes!! I don't think there will be anyone who will ever be able to connect with medicare clients the way you did.
Jeff Gaston
There are so many good memories it is difficult to even begin to know what to leave in and what to leave out. I have known and worked with him for many years … consider him a friend … and have been so well served is so many ways with my association with him and Kellogg Insurance Marketing. He will be missed … leaves behind a wonderful legacy … and has touched many people in his life. May God Bless Him and his Family in this time of sorrow.
Steve Paulson
Ron had this amazing ability to make you feel so incredibly important. He was genuine and kind and truly cared about the people around him. It is a unique ability to make people feel welcomed and special at all times and Ron was someone who was able to do that. He will be truly missed and heaven is rejoicing to have him.
Tracy Weir
I could write forever on my thoughts, feelings and experiences with Ron. I had the opportunity to work with him in the Kellogg Agency but my real experiences came from living directly across the street from him for almost 17 years. If Ron had something good he wanted others to have it to. He invested his time, talents and money into his mission of making other successful. I've never met a more generous individual. I saw his generosity in business, in his family, in the neighborhood and as his bishop. He loved helping others but wanted no recognition. My life has been forever changed because Ron was a part of it. My life will never be the same without him across the street. I will miss him dearly but I will hold tightly to the memories that are mine because of him and with him. I will also do all that I can to emulate his kind acts in my own life. I love you Ron! Thank you for the many lessons that you have taught me.
Dustan Haycock
Being able to have Ron as a friend and business associate was a very precious gift. Without question he was always kind, professional and overly generous. Ron always made time to listen, advise and share his vast expertise along with some fun stories from his many decades in the insurance business. Every word he spoke and move he made reflected his great ambition to have each and every person attain success and happiness to their highest potential. Ron is not only a legend in the insurance industry, but legendary for his kindness and generosity. I'm thankful to have many memories of time spent with Ron working, sharing stories and laughs together. A true mentor and above all a true friend.
Greg Esposito
Working with multiple lines of insurance, I've always enjoyed my work in the Medicare market the most, not in small part due to the genuine support and encouragement from Ron and the Kellogg organization. He was different from every other head of a company that I've met in the industry. A great motivator, communicator, and well respected, Ron leaves a legacy we can all aspire to.
Tim Wilson-Humphries
From the first time I met Ron, I felt like he was an "old friend". He made everyone around him feel comfortable and accepted. He was ALWAYS positive and had such a remarkable "can do" attitude. His generosity truly changed our lives. He loves and cares for everyone with such a genuine heart – which is rare to find. HIs booming voice and big personality will be greatly missed! We're praying for the all of the Kellogg family.
Stephanie Heusser
I will always remember Ron for all of his seminars and all the other stuff he did for us. He truly loved what he did and I always felt he loved us as well. I can't say enough about him and about they way he did things for others. We will carry on and do good things as he would do.
Anonymous
Ron has always been the most positive example of a great salesman. Very in tune on everything.
Gary Hilton
Ron's constant dedication to his clients. They come first, second and third. He understood that service to the client is and hopefully will be what our business is about. Ron preached it and practiced it. That is what an insurance man or women is about. I, like Ron, have been in the business over 50 years and that is the way we were taught. I was so glad that Ron passed on that message. My condolences to the family and all Ron's friends.
Ricky Neross
Ron, Oh Ron!! The world will not be the same without you and these values that are slipping away. What a powerhouse! The most inspiring and honorable man I've ever met in my long career. And you died on my birthday just as I turned the same age as you. I can't stop crying. Every minute of your life was meaningful and i'm going to use you as an example to make sure mine is to. I'm hoping that sometime in the not too distant future, I will be seeing you again. Go with God!
Thomas Newlin
Sometimes you only need to run into a person one time for them to make a lasting impression on your life. Ron was that person. I came to a training in Utah and had just been with another up line, that was terrible, and came in with a bit of trepidation. By the end of the first day, I knew I had made the best decision in my career. Ron's leadership is one thing. He's an amazing leader. But it was his integrity and character that convinced me I was with the right organization. You gotta love a man who so supports you in every way he can. His words that week left an indelible mark on me; "We're here to do what's in the best interest of our customer. Period" Many people say that, few live it. Ron lived it. I will forever be blessed for meeting Mr. Kellogg. He prayed for us every day. Now it's my turn to uplift him and his family in my prayers. God Bless you Ron Kellogg
Kirk Possehl
I was so touched when he told our training class that he loves us and prays for his agents every night. He also took the time to reach out to the agents in the Midwest last summer to let us know he is thinking and praying for us during the devastating floods we experienced. Ron was so genuine and real and I feel blessed I had an opportunity to be one of his many, admiring students!
Laura Weiler
The passion for the success of others is what epitomized Ron Kellogg to me. Closing my eyes to think of Ron all I see are his smiles and his passion to show us the way of success. I always walked away from a Ron Kellogg training feeling like I can conquer the world. To think that I will never have that in-person experience again is sad but to know that his faith in Jesus Christ has lead him to be with the Lord is heart warming. Farewell Ron, WHAT THE CRAP OVER – and out!
Tonderai Bassoppo-Moyo
His heart and kindness coming out the first time I met him in Oklahoma City. He never failed me. He always respected and accepted all my agents and myself as we are. His love was genuine, his passion incredible and his enthusiasm contagious! I will never forget him.
Ginny Curtis
I remember my first time to come to Utah, I loved learning from him. He had so many stories and was so easy to listen to. I love that he valued sweets as much as me :). Those breaks with brownies and cookies had me hooked. We also were invited to the old office for Ron's favorite burger, and I loved the family feel of the agency. I immediately felt like family too. Thank you Ron!
Jennifer Melton
Ron is the the most ethical and sincere businessman I have ever known. He always reached out to help his agents succeed. Ron required ethical compliance from all his agents. Ron always spoke positively and constructively about all companies he represented as well as the others. My condolences and sympathies to Ron's family friends and agents who have lost a perfect mentor and leader. May we remember Ron's example and move forward to emulate his legacy in our own lives and build Ron's dream to work in the lives of all Kellogg agents. Ron's work here is done, and the Lord has a new assignment for him. We will all see Ron again in the hereafter. Families and friendships are forever Amen!
Gary Taylor
I remember the first day I met Ron at the Kellogg office. I had just become a manager and I was so nervous to meet him. He treated me like was a family member. He welcomed me to the Kellogg family and told me he was proud of my success with recruiting. He gave Chris Finnegan and I a ride in his truck from the office to the Hitlon Garden Inn and we had the best conversation! I knew he would always have my back! My favorite saying of Rons was "What the crap over?!"
Angela Walker
I was blessed to meet Ron in person at the Kellogg training institute in September 2017. It didn't take long after hearing him speak to figure out how much he cared for each and every one of his agents. I loved hearing him talk about how important it was to protect the Seniors we would be serving and to keep ourselves safe in the process. He was genuine and passionate! I had recently made a big career change and was struggling with some choices I was facing. He was so giving of his time and sat with me to talk through some of my options. His advise and wisdom helped me to move off dead center and make a move to what would become a passion for helping Seniors. I was a brand new agent, who he knew nothing about and he treated me like I was so important to him. I learned so much from him on that visit and from watching his training videos. He will be missed by so many! Prayers to his family and the Kellogg organization.
Stephanie Swerczek